Nick Conn
Director
BSc DipPhty DipMT MPNZ NZRP
Nick graduated as a physiotherapist in 1992 and has been working managing musculoskeletal pain and dysfunction since. In 1996 Nick completed a Post Graduate Diploma in Manipulative Therapy, DipMT. He holds a science degree from Auckland University.
After starting his own clinic in Whanganui, next to Cooks Gardens Track and Velodrome,  Nick travelled to the UK where he worked for four years in top sports medicine clinics in London. His clients included elite sports people, city workers and corporate customers. The clinics were multidisciplinary with sports doctors, surgeons, podiatrists, osteopaths, radiologists and rheumatologists.
Returning from the UK in 2003, Nick set up Willis Street Physiotherapy. Nick is proud to be part of the Willis Street Physiotherapy management team which has grown the business from a 1-2 person practice to one which now employs over 30 people and operates from 4 sites. Nick is proud to bring these skills to his role as a Director of the Sports Medicine Centre of Excellence at Wellington Sports Medicine.
Nick's treatment specialist skills include: acute musculoskeletal injury diagnosis; hands-on manual therapy; spinal manipulation; strength and conditioning; movement pattern training; postural training; breathing training for hyperventilation and breathing pattern disorders (common in competitive and elite athletes); pre-employment screening; and fitness testing. He is involved in other projects as diverse as furniture design and rehabilitation video gaming. 
He works closely with local businesses helping them prevent and manage discomfort, pain and injury. He delivers workplace training workshops on injury prevention and discomfort management. Other workplace services include workplace assessments, pre-employment testing, and advising on specific workplace health issues.
Nick is a senior clinician and mentor for the physiotherapy team. He works between Willis Street Physiotherapy in central Wellington and Wellington Sports Medicine.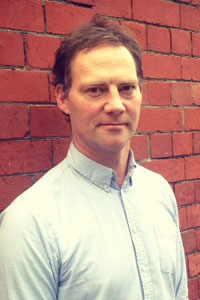 Book an appointment