Erin Nugent
Physiotherapist
Bachelor of Physiotherapy, Masters of Clinical Physiotherapy (Musculoskeletal)
Wellington Sports Med & HealthFit Clyde Quay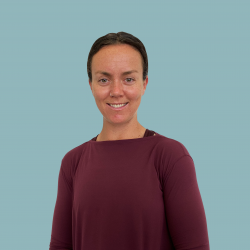 Erin is a Titled Musculoskeletal Physiotherapist from Australia. With experience working across hospital, private practice and sports settings in Australia, New Zealand and Europe, Erin brings a broad range of specialist skills to Wellington Sports Med.
Passionate about treating people in a holistic way, Erin always strives to have her patients leaving the clinic with the knowledge, tools and confidence to take good care of their own health. Her special interests include gym-based strength & conditioning and female athletes.
Erin's love of all sport ensures she is a Jack of all trades, master of none. You'll find her happily having a go at anything from CrossFit and cross-country skiing to surfing and snowboarding. Having just spent 2 months bike-packing around the South Island before making the move North, Erin is really looking forward to getting to know the famous MTB trails, beaches and coffee culture of Welly!